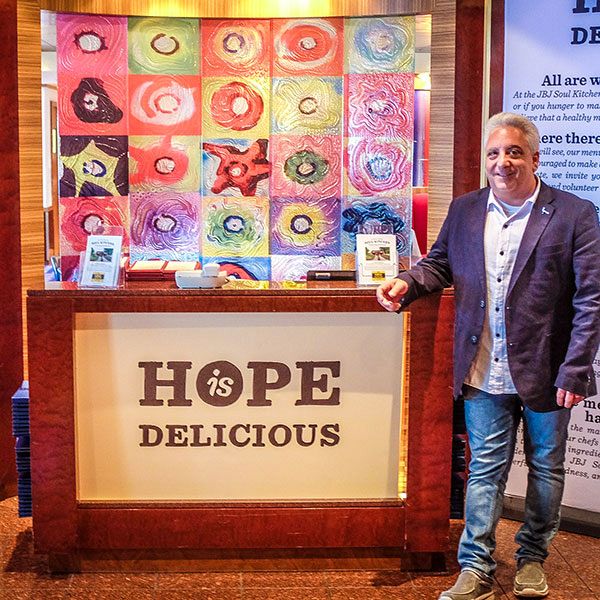 Along with Shore Excursions, you may now make reservations at specialty dining restaurants onboard the Pearl, including the JBJ Soul Kitchen! The Soul Kitchen will be located in Indigo Restaurant, Deck 6, MIDSHIP. When making a Soul Kitchen reservation, you will select Indigo Restaurant. See dining hours below:

MONDAY, AUGUST 26th
Dinner: 5:30pm - 9:30pm

TUESDAY, AUGUST 27th
Lunch: 12:00pm - 4:00pm
Dinner: 6:00pm - 10:00pm
JBJ Acoustic Storyteller set: 6:00pm - 7:30pm

WEDNESDAY, AUGUST 28th
Dinner: 4:00pm - 8:00pm
JBJ and The Kings of Suburbia: 7:00pm - 8:30pm

THURSDAY, AUGUST 29th
Lunch: 11:30am - 3:30pm
Dinner: 5:30pm - 9:30pm

If you'd like to dine in the Soul Kitchen for lunch, simply walk up to the host stand and add your name to the list. It'll be just like the local hot spot in your hometown - once you've added your name to the list, the host will call you in as seating becomes available.

Couldn't get a dinner reservation? Don't sweat it! Walk-ups are open for dinner, too.
The JBJ Soul Kitchen, a program of the Jon Bon Jovi Soul Foundation (a non-profit organization), seeks to provide healthy, locally grown food in a restaurant setting to an in-need and paying customer to address issues of food insecurity. We empower individuals by providing resources and volunteer opportunities while encouraging the paying customers to effect change by Paying It Forward to cover the cost of in-need customers.

All meals at the Soul Kitchen are $20 per person with the option to Pay It Forward with a suggested donation of $20 to cover the cost of a meal for someone at one of the Soul Kitchens in New Jersey who may not be able to afford to pay.

Learn more about the Soul Kitchen's mission here. We thank you for your support and for helping us to make a difference…one SOUL at a time.